Staff
Mary Canning, Data Manager
Mary Canning joined the All Our Families team in 2011 as a Data Research Assistant, initially involved with checking and cleaning data. Over the next several years, her role has evolved to include managing requests to access of the All Our Families data, development of follow up questionnaires, and maintaining databases and data sets. Mary acts as one half of the Data Access Team (the other being Muci Wu), where she provides direction and consultation to internal and external investigators in their use of the AOF data. As a licensed practical nurse in a postpartum patient care unit, Mary also offers a clinical background in the area of child and maternal health.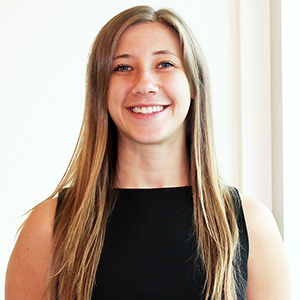 Katelyn Deyholos, Research Assistant
Katelyn completed a summer studentship with the All Our Families team during the summer of 2017. Her research project focused on the relevant factors involved in the use of neighborhood amenities in Calgary, including demographics and amenity accessibility. She is currently working with the team as a Research Assistant as she enters her final year of her undergraduate degree. Katelyn is completing a Bachelor of Arts in Psychology with plans to pursue law school. 
Niya Hurley, Communications
Among other things, Niya manages our outbound communications, including new eNewsletter and social media accounts. Niya brings a breadth of experience in communications, engagement building and public relations having previously worked with small non-profits, complex public organizations and a number of PR agencies in Calgary and Toronto. She holds a BA degree in Mass Communications from York University. Niya keeps busy running after her little daughter, walking the family's two beagles and, if she's lucky, enjoying a quiet moment with a good read (or a nap!).
Nikki Stephenson, MSc,
Research Program Manager
Nikki Stephenson joined the All Our Babies team in 2012 as a Research Assistant and has since moved through various roles before entering her current role of Research Program Manager. Her academic achievements, including an MSc in Reproductive Sciences and a BSc in Physiology from the University of Saskatchewan, led to her work on bio banking with Agriculture and Agri-foods Canada and data repositories with the Alberta Centre for Child, Family and Community Research. As the Research Program Manger Nikki provides strategy and direction for the operations of the research team, while quietly handling things in the background so research can remain the focus for the team. Nikki enjoys volunteering and implementing various youth-focused community programs around Calgary; and spending as much quality time with her husband, daughter and dog as possible.
Michaela Summers, Research Assistant
Michaela Summers joined the All Our Babies Team in 2014 as a Research Assistant. She also helps with the recruitment and scheduling of participants for the Phonological Awareness Sub-study. Michaela is currently completing a combined undergraduate degree in Psychology and Women's Studies at the University of Calgary and will graduate in Spring 2017.
Rajni Walia, Research Assistant
Rajni Walia joined to All Our Babies team in November 2014 as a full-time Research Assistant. Currently, Rajni is assisting with the follow-up for the 5 year questionnaire, collaborating in lab visit, and entering data for the phonological awareness study.  Rajni is a mother of a 5 year old and a 7 year old boys. She has a master degree and a diploma in computer application from India. She moved to Canada in 2013 from Africa where she was working as an Administrative Assistant.
Muci Wu, Data Analyst 
Muci Wu joined the All Our Babies team in 2012 as an undergraduate research assistant contacting and checking in with participants. After finishing her BSc in Statistics at the University of Calgary, she moved into her current role with the team as Data Manager/Analyst where she maintains databases, data documentation, and assists in analyses of reports and manuscripts. She represents one half of the data access team (with Mary) where she consults with internal and external investigators on the use of AOB data with respect to their research questions.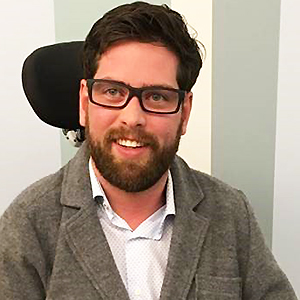 David Wudel, A
dministrative Assistant
David joined the All Our Families team in June of 2015 as an administrative assistant in our
new lab at the Owerko Centre. David holds a degree in Public Relations from Mount Royal
University and spent four years working with Cerebral Palsy Kids and Families prior to joining
the team.
David is accompanied by his four-legged friend, Jim, a service dog provided by the
Lions Foundation of Canada. Jim is an indispensable friend who assists David with a multitude of tasks in the workplace and at home. He even helps David prepare questionnaires sometimes. So if your questionnaire was slightly rumpled when you received it, it might be because you were a lucky recipient of David and Jim's hard work.
If you come into the lab for a visit, David is always available to answer any questions, so feel
free to stop by and chat with him anytime.